What is the Social Stock Exchange?
Social Stock Exchange is a platform that allows investors to buy shares in social enterprises regulated by an official exchange. A social enterprise is an organization that applies commercial strategies to maximize improvements in financial, social, and environmental well-being—this may include maximizing social impact alongside profits for co-owners. Social enterprises can be structured as a for-profit or non-profit and may take the form of a co-operative, mutual organization, a disregarded entity, a social business, a benefit corporation, a community interest company, a company limited by guarantee or a charity organization. They can also take more conventional structures.
Why Social Stock Exchange in India?
Social sector organizations play a significant role in delivering essential services to vulnerable and marginalized communities. However, the effectiveness of the sector is contingent on adequate funding. At present, the social sector in India receives funding through multiple sources, such as corporate social responsibility, impact investing, philanthropy, and everyday giving. Enabling these diverse channels to come together on a common platform and introducing uniform frameworks in reporting, measurement, and standards could be an important step in developing the sector. This is where the SSE comes in.
India needs massive investments to be able to meet the human development goals identified by global bodies like the United Nations. This can't be done through government expenditure alone. Private enterprises working in the social sector also need to step up their activities. Currently, social enterprises are very active in India. However, they face challenges in raising funds. One of the biggest hurdles they face is, apparently, the lack of trust from common investors. SSE might serve as a solution and the enterprises will be regulated by a trusted Government body.
History of Social Stock Exchange In India:
The idea of a social stock exchange in India was first floated by the finance minister Nirmala Sitaraman in her budget speech for the year 2019-20. The objective, as stated then, was to take capital markets to the masses; specifically, organisations working towards social welfare, in order to make it easier for them to raise funds. The SSE would come under the regulatory ambit of the Securities and Exchange Board of India (SEBI). SEBI has also constituted a working group on Social Stock Exchanges (SSE) under the chairmanship of Ishaat Hussain, Director, SBI Foundation. On June 1,2020 the working group released a committee report on SSE and comments on the same have been asked by all its stakeholders.
Social Stock Exchange around the world:
The most prominent social stock exchanges in the world are in UK, Canada, USA, South Africa, Singapore and Mauritius. Unlike traditional stock exchanges the social stock exchanges, generally, doesn't facilitate the trading of shares but act as a platform for interaction between SE and Investors.
The UK social stock exchange goes a step further and does a social impact test which can be viewed as first level due diligence of the SE. The SSE in Mauritius is called Impact Exchange (IIX) and provides some good insights for upcoming Indian SSE. In the IIX model, the eligibility for listing are; specific and clearly stated positive social or environmental impact, clear purpose and theory of change, impact performance management and monitoring systems, impact reporting and independent impact certification.
The Kenya Social Investment Exchange, launched in 2011, connects vetted social enterprises with impact investors, both foreign and domestic. A listed social enterprise has to demonstrate social impact as well as financial sustainability beyond the funding period.
Recommendations of the Working Committee report: An overview
The Working committee opines that the initiation of a systematic regulatory framework would enable investors and donors to contribute to social sector spending in India. It would augment the capacity of private enterprise in response to the unique challenges. The SSE would encourage trading in equities issued by profit-making entities with the help of tax incentives and governance practices such as a common reporting standard. It would include a pay-for-success mechanism that benefits increased funding for social enterprises based on performance.
Develop new sector-level infrastructure:The SSE should play a key role in building the social sector ecosystem, by promoting institutions, which will provide credible and standardised information on nonprofits and help players on the SSE access a diverse range of nonprofits.
Provide capacity building support for reporting requirements:To support nonprofits in enhancing reporting capabilities, the SSE should set up a capacity building fund of about INR 100 crore to bear some of the costs of increased reporting requirements. The fund should prioritise support to smaller organisations.
Encourage CSR funding on the SSE:Funding to nonprofits through the SSE should count towards CSR commitments of companies, including expenditure on building capacities of nonprofits for the SSE. The Ministry of Corporate Affairs could also authorise the trading of CSR spends between companies with excess CSR spends and those with deficit CSR spends, on the SSE.
Enable foreign investments:Foreign entities should be allowed to invest in companies or entities listed on the SSE. However The rules under the Foreign Contributions (Regulation) Act would need to be clarified to enable this.
Introduce tax and fiscal incentives:India's tax and fiscal policies would be amended to encourage participation in the SSE. Investors will get Section 80G benefits which allow all investments in securities/instruments of entities listed on SSE to be tax deductible, and corporates to deduct CSR expenditure from their taxable income, among other things. Investment by companies will be considered as part of their Corporate Social Responsibility (CSR) initiatives.
Monitoring Mechanism: The Report attempts to replicate the monitoring mechanism under SEBI Business Responsibility Reporting Framework, which was adopted in 2012 (which currently is the SEBI (Listing Obligations and Disclosure Requirements) Regulations, 2018). The evaluation of social impact would be conducted through the lenses of the beneficiaries. While the instruments listed directly on the SSE will come under the ambit of SEBI regulatory jurisdiction, the Social entities will continue to operate outside SEBI remit. Therefore, the intervention of other regulatory bodies will also be required to exercise oversight.The SEBI panel urges the government to evaluate the need for a new regulator at the end of the immediate term of four to seven years that could monitor the entire paradigm of social enterprises, social reporting and social auditors
Securities to be offered: The SEBI working group report lays out several funding instruments such as zero-coupon-zero-principal bonds, social venture funds, and mutual funds.
Conclusion:
By allowing for a platform that caters to the needs of funders and beneficiaries, the SSE is a positive step in that direction. A set of rules that defines impact validation and promotes incentive-led instruments will nudge the SSE on the path to becoming a vehicle for positive growth.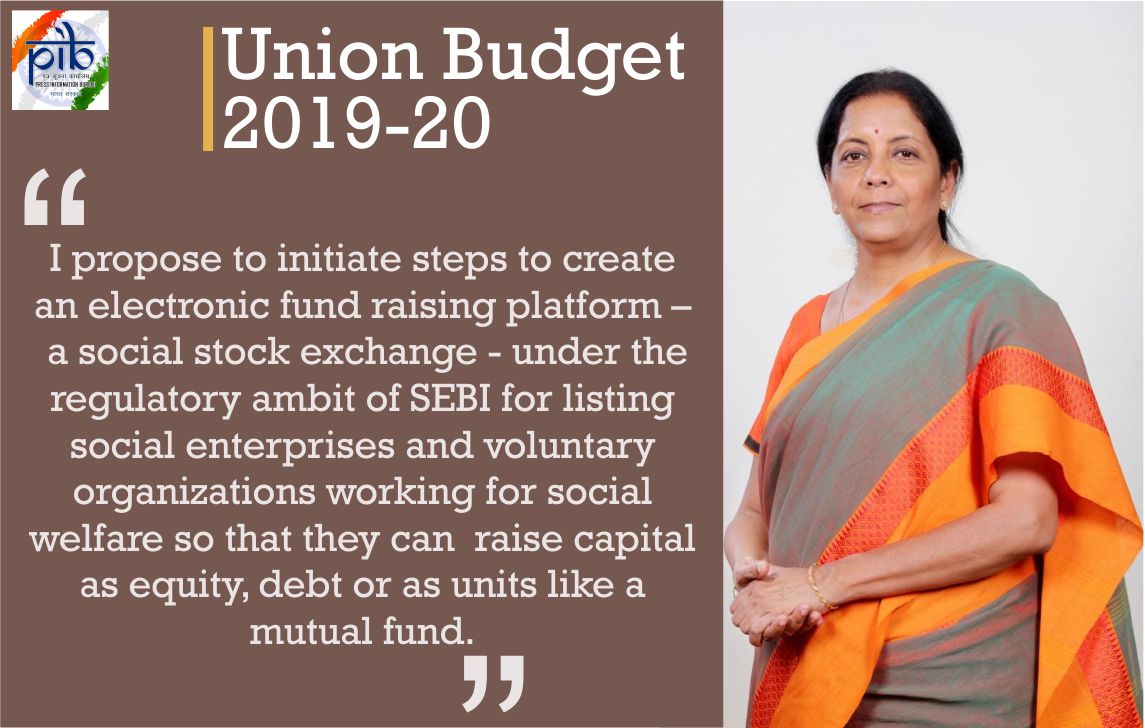 This article is written by Mahima Rathod & edited by Rupreet Kaur Dhariwal.
Similar article you might like to read-