Introduction
Though one's childhood is, in theory, a time of bonding, exploring, and learning, a large variety of children in India are bereft of such a childhood, because of their poor socio-economic condition. Child labour has several negative effects such as depression, malnutrition, and so on. It additionally affects the long-run well-being of the children by denying them academic opportunities.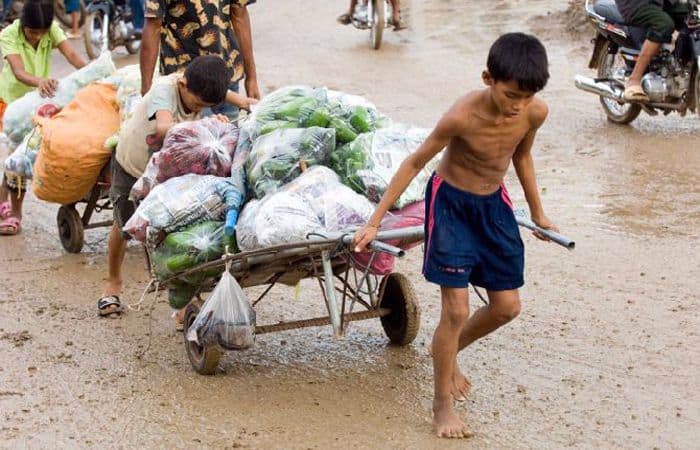 According to the 2011 census data, India has around 10.13 million child laborers from the ages of Five to Fourteen. Some states report a higher occurrence of child labour than others, for example, Uttar Pradesh, Bihar, Rajasthan, Maharashtra, and Madhya Pradesh – which together make up nearly 55% of the total working child population in India. Child labour is any work that children do that is dangerous or dangerous to them and is harmful and affects their physical and mental development.
This form of work robs children of their childhood, potential, and dignity, and affects a child's ability to fully attend and participate in school by encouraging them to leave school early. The Child Labour Act in India does not completely forbid employment but gives fines for illegal work in front of children.
Causes of Child Labour
Although the law is strict regarding child labour, this work is widespread – the application of the law by the authorities and lack of information on the law are the main reasons for this.
Poverty: Due to poverty many parents send their children to work as they can't afford good food, good living conditions, etc. for themselves as well as their child. So, they tend to burden the child by sending him to work and earn for the whole family.
Lack of education: There are not a lot of educational facilities available to the children so they end up doing labour and sometimes due to high fees in school the parents instead of sending them to school send them to work.
Previous Debts: There are a lot of families who borrow money from the moneylenders and then due to insufficient income they can't repay the moneylenders. So, they send their children to work so they can pay off their debt.
Professional Needs: There are a lot of industries that need delicate and small hands for some intricate work so they often recruit children to do such work. Such work can also affect children's eyesight.
Laws regarding Child Labour
The Factories Act, 1948:
The Law prohibits the employment of children under 14 years of age in any factory. The law also established rules about who, when and for how long pre-adults aged 15-18 can work in any factory.
The Mines Act, 1952:
The law prohibits the employment of children under the age of 18 in a mine. Mining is one of the most dangerous occupations that has resulted in many serious accidents in the past with the death of children.
The Juvenile Justice (Care and Protection) of Children Act, 2000:
This law made it a crime punishable by imprisonment for procuring or employing a child in any unsafe employment or bondage. This law provides a penalty for those who violate the previous acts by employing children to do work.
The Right of Children to Free and Compulsory Education Act, 2009:
The law requires all children between the ages of 6 and 14 to attend free and compulsory education. This legislation also stipulates that 25 percent of places in any private school must be allocated to children from disadvantaged groups and physically challenged children.
Plantation Labour Act, 1951:
Article 25 of the law specifies that women and children can only be employed between 6 a.m. and 7 p.m. They have to take permission from the state government if they want to extend this timing.
Domestic Workers (Registration Social Security and Welfare) Act, 2008:
Section 14 of the law specifies that no child shall be employed as a domestic worker or for any incidental or auxiliary work that is prohibited by any law.
The Child Labour (Prohibition and Regulation) Act of 1986:
The law prohibits the employment of children under the age of 14 in hazardous occupations identified in a list by law, which was expanded in 2006 and again in 2008.
Penalty
Section 3 violations are punishable by imprisonment of at least three months, which can extend to a year, or a fine of at least ten thousand rupees, which can extend to twenty thousand rupees, or both under section (3) is imprisonment for a period of at least six months, which may extend to two years.
All other violations under the law are punishable by simple imprisonment of up to one month or a fine of up to ten thousand rupees, or both.
Conclusion
Even though there are a lot of laws that help to abolish child labour but there are a lot of places where children are being employed. The laws must become stricter so that the children can enjoy their childhood without the burden of their jobs. The government should also provide some financial help or come up with other provisions which help the children. This way we can all stop child labour and make our country more progressive.
The Factories Act, 1948: The Mines Act, 1952:The Juvenile Justice (Care and Protection) of Children Act, 2000: The Right of Children to Free and Compulsory Education Act, 2009: Plantation Labour Act, 1951: Domestic Workers (Registration Social Security and Welfare) Act, 2008: The Child Labour (Prohibition and Regulation) Act of 1986: The Factories Act, 1948: The Mines Act, 1952:The Juvenile Justice (Care and Protection) of Children Act, 2000: The Right of Children to Free and Compulsory Education Act, 2009: Plantation Labour Act, 1951: Domestic Workers (Registration Social Security and Welfare) Act, 2008: The Child Labour (Prohibition and Regulation) Act of 1986: The Factories Act, 1948: The Mines Act, 1952:The Juvenile Justice (Care and Protection) of Children Act, 2000: The Right of Children to Free and Compulsory Education Act, 2009: Plantation Labour Act, 1951: Domestic Workers (Registration Social Security and Welfare) Act, 2008: The Child Labour (Prohibition and Regulation) Act of 1986:
CHILD LABOUR IN INDIA – Causes – Laws regarding Child Labour: The Factories Act, 1948: The Juvenile Justice (Care and Protection) of Children Act, 2000 CHILD LABOUR IN INDIA – Causes – Laws regarding Child Labour: The Factories Act, 1948: The Juvenile Justice (Care and Protection) of Children Act, 2000 CHILD LABOUR IN INDIA – Causes – Laws regarding Child Labour: The Factories Act, 1948: The Juvenile Justice (Care and Protection) of Children Act, 2000 CHILD LABOUR IN INDIA – Causes – Laws regarding Child Labour: The Factories Act, 1948: The Juvenile Justice (Care and Protection) of Children Act, 2000